---
** Canceled ** Packer Days 5K Survival Race
Saturday, June 12, 2021 (1:00 PM - 5:00 PM) (MST)
Description
** Canceled **

Back-country survival is no joke. But have a blast in this team-based Survival 5k. Teams of 3-5 people must complete given survival tasks at four different Check Points before proceeding along the 5k route. Who knows what you'll encounter along the way!?
Walkers Welcome - Survival 5k around historic Lake City
Schedule of events:
1.The race will start at 1:00pm on Saturday, June 12, 2021. Visit www.lakecity.com for more information on Packer Days including a schedule of events for the whole weekend.
2.Early-Bird Registration is $25/per adult and $15/per child(under 17 years old). Deadline for early-bird registration is June 1, 2021. After June 1, 2021, registration for adults will be $35. Participants must register as a team of 3-5 people.
3.Participants must check in at Town Park the day of the race between 12:00pm and 1:00pm. Teams may also register during these times.
4.This is a rain or shine (or snow or ice or slush) event. Like any back-country excursion, it could be sunny and beautiful or it may snow 6 inches. The race route also covers gravel/dirt roads, trails, and pavement with each possibly containing different conditions. Come prepared!
5.The Award's Ceremony will take place at the Mystery Meat Cook-off from 3:00 to 5:00pm at the town park. All-you-can-eat Mystery Meet tickets are $5 each. Cash bar will be available.
Winners receive awards for: 1st Place, 2nd Place, 3rd Place and Best Dressed.
Survival Tasks:
Teams who cross the finish line without completing all activities will receive a 30 minutes penalty.
1.Build and properly extinguish a fire. Fire could mean life or death on the trail, especially in a Colorado spring. Unfortunately, leaving a fire could mean the end of Colorado. Participants must successfully build a fire with 9 in. flames and then properly extinguish the fire before leaving the site.
2.Build a shelter. Escaping the elements is a crucial aspect of surviving in the back-country. Teams must construct a shelter in which 3 people can avoid the elements and is stable enough to withstand moderate disturbance from an official.
3.Splint an injured Team Member. Injuries happen to even the most experienced and prepared adventurer. Fortunately, you have a team to help you! Teams must choose one member to incur a torn ACL (injured knee). The "injured" participant must be successfully splinted according to the standards of Wilderness FirstAid training.
4.Evacuate the Injured Team Member. Despite superb first aid, your injured team member cannot continue on his/her own. The team member must be carried between Check Points 2 & 3. (Evacuees may rest or switch spots, however, the injured member must remain the same person and may not walk on his/her own. At Check Point 3, the splint will be removed and the team may proceed normally.)
5.Knot Tying. Knowledge of knots and their purpose are priceless. This station will require teams to successfully tie 3 essential survival knots. Don't worry there will be instructions
6.Packer Questionnaire. Trivia about the man himself. This station will test the limits of even the biggest Packer fans.
We would love to have you volunteer to help with this event! Short time frames, fun stations! To sign up, click the button below!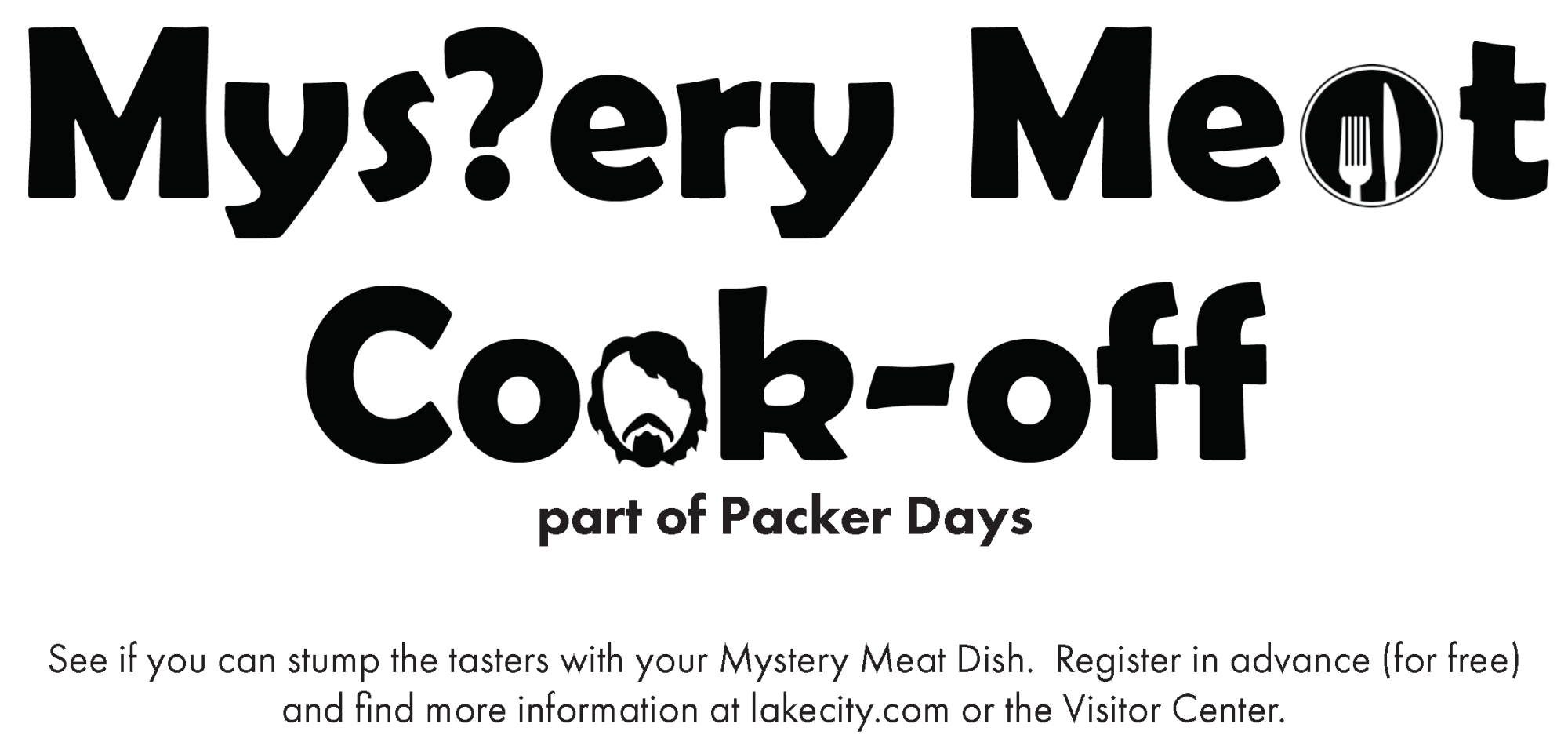 SATURDAY JUNE 12, 2021 3PM-5PM
How it works:
• A $5 ticket provides attendees with samples from each vendor.
• Each taster will try to guess what meat(s) is your dish.
• The dish with the least amount of correct guesses will win the "Most Mysterious Meat" Award.
• A cash bar will be open.
As a vendor, here's what you need to know:
Due to Covid-19 restrictions, vendors will be REQUIRED to serve each ticket holder themselves. Please wear disposable gloves and maintain appropriate social distancing practices.
• Be sure to register by June 9, 2021 .
• Dishes may come in any form (i.e. stew, chili, casserole, or just grilled meat)
• You should plan for at least 30 4-oz. servings.
• Vendors may start setting up at 2:00 on June 12. Vendors should be completely ready by 3:00.
• Bring necessary equipment to keep your dish hot/cold. Limited electrical outlets will be available.
• Bring any necessary serving utensils with you. We will provide bowls, spoons, and napkins for ticket holders.
• The mystery ingredients and vendor winner(s) will be announced at the end of the event.
To register for the Mystery Meat Cook-Off, please click HERE
Sponsors
Silver Sponsor
Elkhorn Liquors
Lake City Town Park



Lake City

,

CO

81235

United States



Saturday, June 12, 2021 (1:00 PM - 5:00 PM) (MST)